Description
Highlight
Sturdy, attractive, long-lasting

Sleek aerodynamic design with minimal wind noise.

Aerodynamic design to enhances the look of your car

Made by durable acrylic, injection molded

Chrome trim compliments the trim on the window

Easy and durable installation with 3M tape & clip

No drilling is required for installation

Lightweight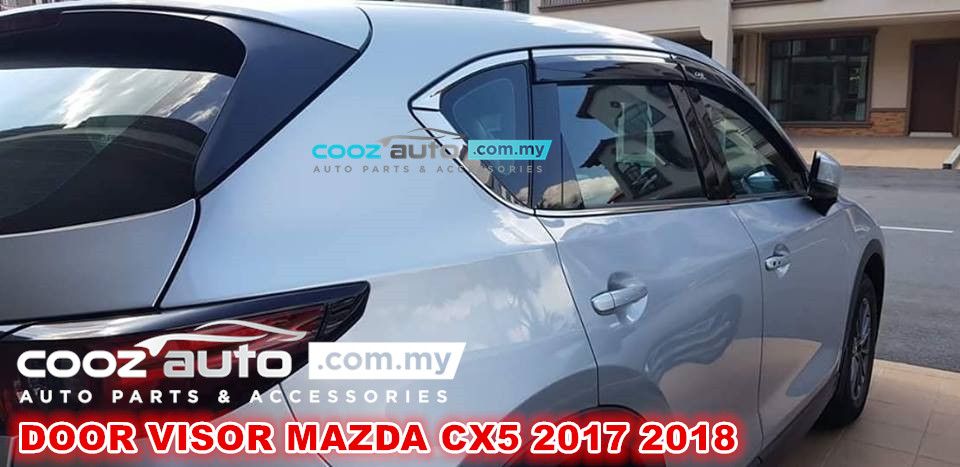 | | |
| --- | --- |
| ITEMS: | DOOR VISOR WITH CHROME LINING |
| MATERIAL: | ACRYLIC |
| COLOR: | BLACK TRANSPARENT |
| SUITABLE FOR: | MAZDA CX5 2017 2018 |
| PACKAGE: | 2PCS FOR FRONT +2PCS FOR REAR + 4PCS CHROME GARNISH |
PRODUCTS DESCRIPTION:
The door visor is made from durable acrylic with imported adhesive tape. It is designed to provide a stylish, OE-installed look that keeps rain out and lets fresh air in. This allows the air to circulate, removing stale odors, reducing mirror fogging and gets better and clearer vision while driving during raining day.
Main advantages of Acrylic Plastic are durability, fitting & shining. The customized design easily mounts to the outside of your vehicle using pre-applied 3M adhesive mounting tape. Its quick no-drill installation creates a perfectly snug and secure fit.
The door visor is light weight and comes in a set of 2pcs for front and 2pcs for rear.
FEATURE:
Sturdy, attractive, long-lasting

Sleek aerodynamic design with minimal wind noise.

Aerodynamic design to enhances the look of your car

Made by durable acrylic, injection molded

Chrome trim compliments the trim on the window

Easy and durable installation with 3M tape & clip

No drilling is required for installation

Lightweight
BENEFITS:
When driving in the sun:
Deflects harmful ultra-violet (UV) rays
Reduce accidents caused by blinding sun rays
More protection and comfort to passengers
When in idle motion:
Acts as a safety feature to prevent car jacking
Able to have fresh air flowing in when leaving on the car at parking
When driving in the rains:
Prevents rain water from coming in
Enable smooth air flow to prevent mist and fog on the windscreen and hence, gets better and clearer vision while driving
Comfortable drive when driving without air condition
When in the freeway:
Able to smoke a cigarette without switching off the air condition
Able to wind down window slightly without getting strong wind blow
BEFORE & AFTER:
Reviews (0)
view all
back
What's in the box
A set of 2pcs for front + 2pcs for rear.