A-Mark Perodua Axia 2014-2016 4 in 1 Foot Brake Auto Door Lock + Auto Folding + Alarm Buzzer + Double Signal
Price

RM149.00

Product SKU
AM47
Brand
A-mark
Size (L x W x H)
25 cm x 20 cm x 5 cm
Availability
In Stock
Quantity
Description
Highlight
Perodua Axia 2014-2016 4 in 1 Foot Brake Lock
All 4 doors automatically lock once foot brake pedal is stepped on and
All 4 doors automatically open when engine is off.
Safety while driving in locking status
Double Signal Light Flash when Open Door to alert for other road user
Sound indicator each time you unlock/ lock the car
Side Mirror Auto Fold When Vehicle Is Lock & Vice Versa
OEM Plug and Play Brake Lock. Simple Connect Socket
​
| | |
| --- | --- |
| ITEMS: | A-MARK ALARM BUZZER + DOUBLE SIGNAL + FOOT BRAKE LOCK + SIDE MIRROR AUTO FOLDING |
| SUITABLE FOR: | PERODUA AXIA 2014-2016 |
| CONDITION: | BRANDS NEW |
| BRANDS: | A-MARK |
| ITEM CODE: | AM-FBL-AM47 |
| SPECIFICATION: | 4 IN 1 |
PRODUCTS DESCRIPTION:
A-Mark Alarm Buzzer + Double Signal + Foot Brake Lock + Side Mirror Auto Fold which is specially made for Perodua Car that do not have any factory fitted auto door lock. This auto door lock will be locked all the 4 doors when press the brake, just in case you forgot to lock it manually,meanwhile,when a door is opened and closed,the door will repeatedly locked again when press the brake. Car door will be unlocked once the engine is switch off.
When door is opened, double signal light will light up to alert Vehicle from back side for Safety. This package also include sound indicator (by installaing buzzer) each time you unlock/ lock the car. The alarm will sound like TOYOTA "Beep" when lock and "Beep Beep" when unlock.
Side Mirror Auto Fold When Vehicle is Lock & Vice Versa
This device is very easy to install and it won't void the factory original warranty by just Plug & Play to original alarm socket.
​
REMARKS:
Only Applicable for cars with side mirror motor.
This product is 4 in 1 feature: sound indicator, double signal lights every time you lock / unlock your car & foot brake lock where car automatically locks every time you step on the brake only/side mirror will auto fold when vehicle is lock or unlock. It is only applicable for Perodua AXIA 2014-2016
FEATURES & BENEFITS:
All 4 doors automatically lock once foot brake pedal is stepped on and
All 4 doors automatically open when engine is off.
Safety while driving in locking status
Double Signal Light Flash when Open Door to alert for other road user
Sound indicator each time you unlock/ lock the car
Side Mirror Auto Fold When Vehicle Is Lock & Vice Versa
OEM Plug and Play Brake Lock. Simple Connect Socket
DIY Product. Easy and Simple install.
No need to cut wire
No Warranty Void
A-Mark Perodua Axia 2014-2016 4 In 1 Foot Brake + Double Signal + Alarm Buzzer + Side Mirror Auto Fold
COMPONENTS OF PERODUA AXIA 2014-2016 AM-47: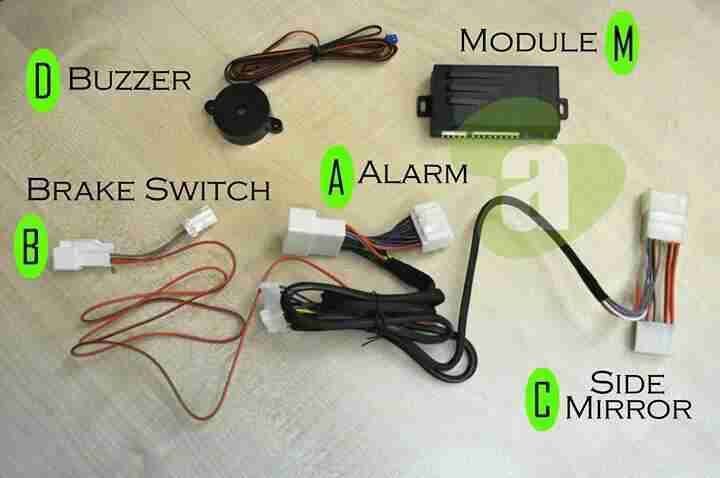 INSTALLATION (PERODUA AXIA 2014-2016):
Reviews (0)
view all
back
What's in the box
1 set x Perodua Axia 2014-2016 4 in 1 Foot Brake Lock