Price

RM97.00

Product SKU
3M-39174
Brand
3M
Size (L x W x H)
15 cm x 15 cm x 10 cm
Availability
Out Of Stock
Description
Highlight
Kits contain masking tape, light sanding discs, wax protectant and more
For use on plastic lenses – headlights, taillights, fog lights, directional lights and more
3M abrasive technology removes yellowing and buildup without damaging plastic lens surface
Easy to use – choose a kit with no tools required, or for use with a common household drill
Save hundreds vs. replacing headlight lenses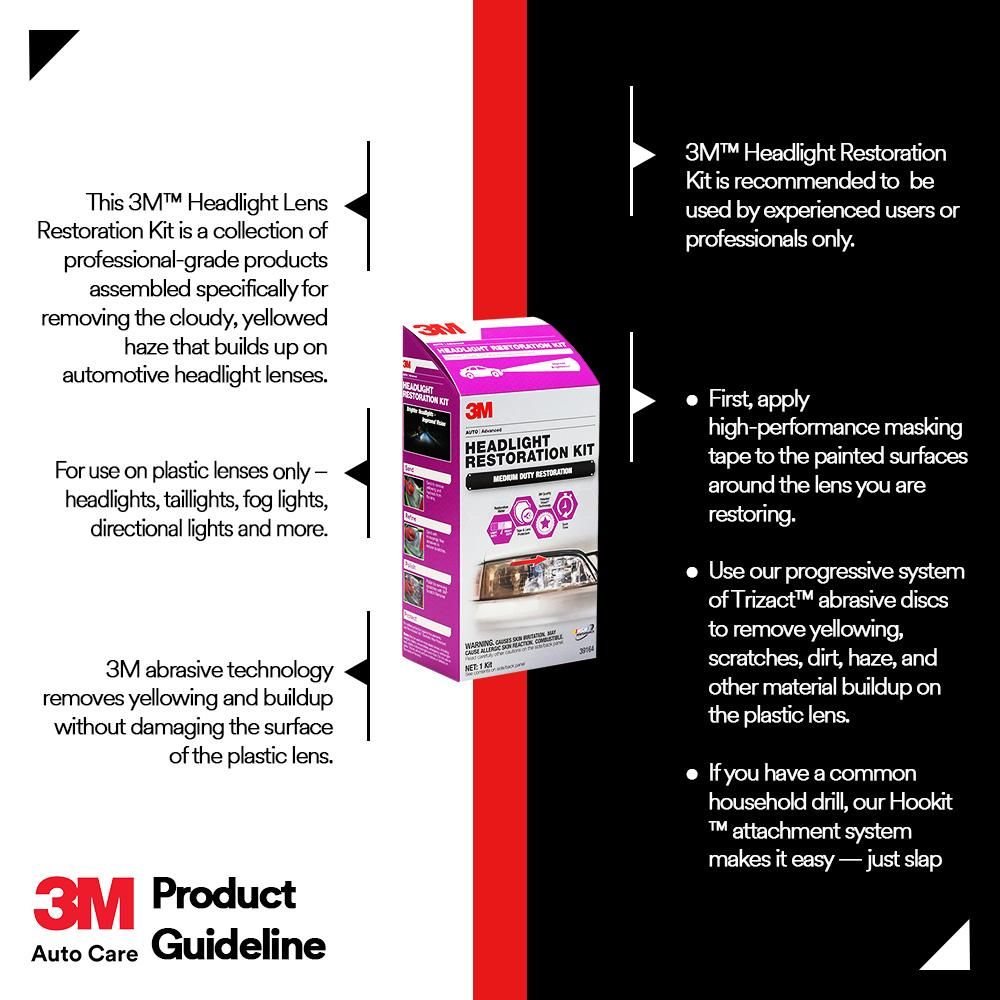 PRODUCT DESCRIPTION:
Choose these products for moderately scratched, hazed and yellowed lenses. Kit features a simple four-step process.

The abrasive in our Trizact™ abrasive discs for headlight restoration is so fine that you can sand across the plastic lenses without worrying about creating scratches or other damaging marks.
3M™ Trizact™ abrasives feature microreplication — small 3-dimensional structures are reproduced and then uniformly distributed over the surface of the disc.
These patterned, precise mineral structures contain multiple layers of abrasive mineral. As the structures wear, fresh, sharp mineral is exposed.
The result is that the abrasive cuts faster, stays sharper longer and allows for precise finish control — it removes the yellowing, dirt buildup and small scratches that can cause haze, without damaging the lens itself.
For use on headlights, taillights, fog, and directional lights.
PRODUCT FEATURES:
Kits contain masking tape, light sanding discs, wax protectant and more
For use on plastic lenses – headlights, taillights, fog lights, directional lights and more
3M abrasive technology removes yellowing and buildup without damaging plastic lens surface
Easy to use – choose a kit with no tools required, or for use with a common household drill
Save hundreds vs. replacing headlight lenses
PRODUCT DETAILS:
Restore Your Headlights Without Replacing Them
Rather than using ineffective solvents — or spending big on new headlight lenses — you can choose our 3M™ Headlight Lens Restoration Kits. A complete system of light abrasives, polishes and protectants removes scratches, dirt and oxidization that can appear on your lenses, lowering your vehicle's value and reducing safe driving visibility. You can choose a kit that lets you restore headlight lenses without tools. Or, with just a spray water bottle and a common household drill, you can use the full kit with a complete range of abrasive discs for sanding, finishing and refining to remove discoloration that can cause your headlights, tail lights, fog and directional lights to appear cloudy and yellow — for a fraction of the cost and time of buying and installing new lenses. Each kit includes everything you need to restore two headlight lenses.
Reviews (0)
view all
back
What's in the box
1x 3M Headlight Restoration Kit