Price

RM45.00

Product SKU
BWP-HND-27
Brand
BOSCH
Size (L x W x H)
40 cm x 8 cm x 8 cm
Availability
In Stock
Quantity
Description
Highlight
Bosch Advantage Wiper provides superior corrosion resistance and all-weather protection.
Long-life, high wiping performance for safe driving
Full metal frame with precision-cut wiping edge
New rubber formula for tropical climates
Hardwearing and robust thanks to the sturdy metal bracket system
Natural rubber wiper blade element with graphite coating for thorough wiping action
Pre-assembled Universal adapter for quick and easy fitting.
Easy installation
PRODUCTS DESCRIPTION:
Bosch Wiper Blades: Value for Money, Reliable Performance.
Introducing the Bosch Advantage – with precision-cut wiping technology and rubber formulated for tropical weather, you'll get a wiper that you can rely on for a longer time.
A clear view of the road is essential to safe driving and Bosch has been pioneering developments in wiper blade technology for decades. Having had extensive experience in designing and manufacturing quality wiper systems since 1927, Bosch released the new Advantage Wiper featuring an exclusive "tropicalized rubber" that is resistant to cracks and damage from long-term ozone and sunlight exposure. Specially engineered for Asia, even under the harsh weather conditions in Malaysia.
BOSCH wiper blades come with a "Quick-Clip" connector system for easy and safe installation. The full metal frame features rivet joints for increased robustness, excellent performance and long service life.
FEATURES & BENEFITS:
Long-life, high wiping performance for safe driving
Full metal frame with precision-cut wiping edge
New rubber formula for tropical climates
Bosch Advantage Wiper provides superior corrosion resistance and all-weather protection.
Hardwearing and robust thanks to the sturdy metal bracket system
Natural rubber wiper blade element with graphite coating for thorough wiping action
Pre-assembled Universal adapter for quick and easy fitting.
Easy installation
PRODUCT DETAILS: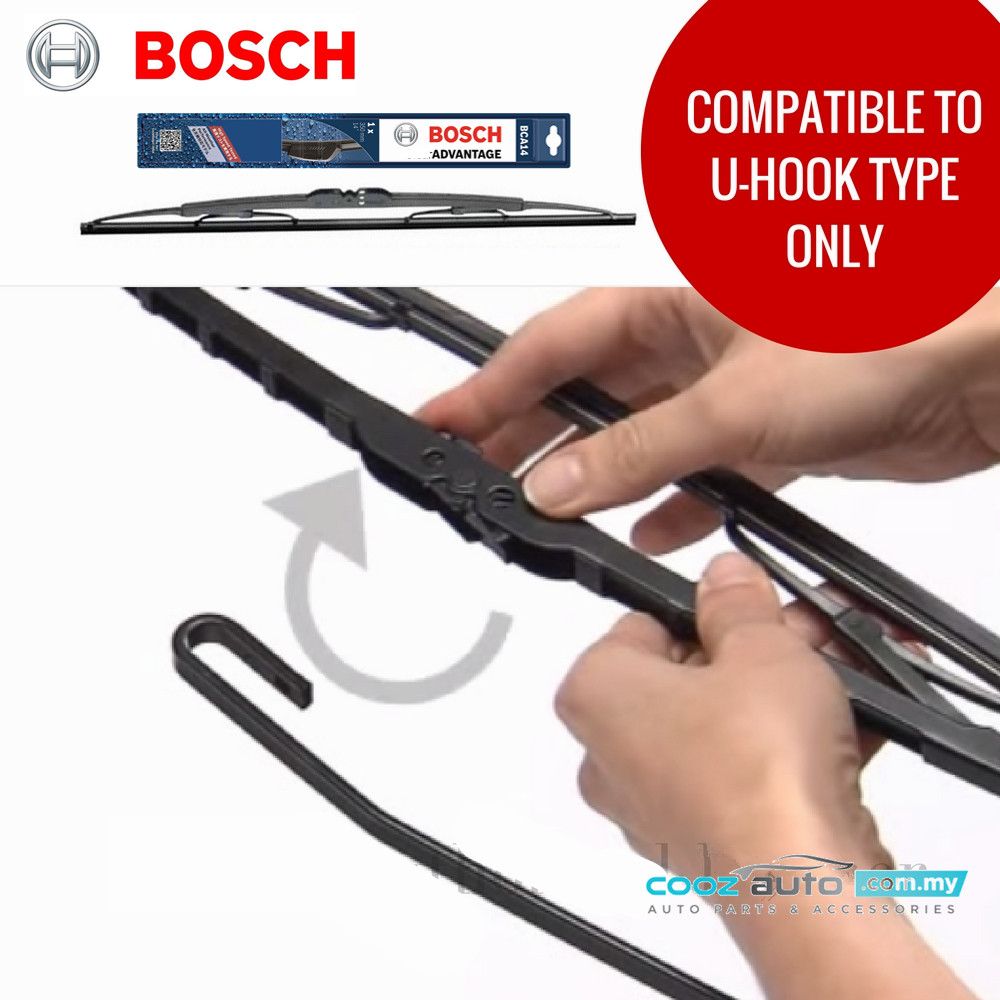 INSTALLATION OF BOSCH ADVANTAGE WIPER :
​
CUSTOMER ARE ADVISED TO CONTACT US FOR CHECKING STOCK AVAILABILITY 
CONTACT US FOR COMBINED SHIPPING DISCOUNT. TERMS AND CONDITION APPLIED
FOR SELF COLLECTION, SMALL AMOUNT OF DEPOSIT WILL BE REQUIRED AND WE WILL INFORM YOU THE COLLECTION DATE
Reviews (0)
view all
back
What's in the box
A set of 2pcs Bosch Rear Wiper